Varicose Veins & Thread Veins Treatment
Procedures by Mr Michael Gaunt MD (Dist), MA Cantab, FRCS 
I perform all consultations and procedures, guaranteeing patients receive tailored treatment plans and aftercare, benefiting from my wealth of experience and years of accumulated knowledge and research.
Internationally renowned Michael Gaunt treats unsightly varicose veins, thread veins, spider veins and facial veins including infected venous ulcers and deep vein thrombosis (DVT).
Specialising in varicose vein & thread vein treatments using Endovenous Laser (EVLA), ClariVein™ (MOCA), Ultrasound Foam Sclerotherapy (UGFS), Michael Gaunt offers the latest technology and very effective treatments.
Walk-in, walk-out minimally invasive procedures
Individual tailored treatment plans
Diagnostic ultrasound scan
Post-operative care
Over 30 years' medical expertise
Multi award-winning research
Celebrated patient satisfaction
"The latest minimally invasive treatments can be performed under local anaesthetic as a walk-in, walk-out procedure, with minimal post-operative discomfort and less impact on your lifestyle."
All procedures are performed within a hospital setting with the choice of local or general anaesthetic. Consultations can take place at any one of Michael Gaunt's private clinics in Harley Street, London, Cambridge or Bury St Edmunds.
Case study: Before and after varicose vein treatment by Mr Michael Gaunt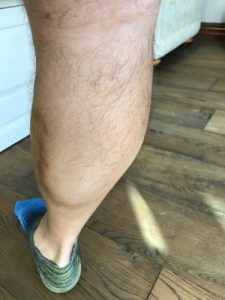 "Don't shy away from treatment, help is on hand to find a procedure that is tailored to you and your lifestyle"
"There's a wide choice of treatments and procedures available to combat varicose veins and thread veins and it can be a little overwhelming. Finding the perfect treatment plan, that's specifically tailored for you, is crucial to achieving the results you want. I recommend you book a consultation to find the best solution for you"
Case study: Legs before, showing raised varicose veins and after treatment by Mr Michael Gaunt
ClariVein™ A tiny rotating wire is inserted inside the varicose vein whilst a sclerosant solution is injected to break down and seal the vein. This technique is the least invasive, requiring the smallest amount of local anaesthetic. The procedure takes around 30 minutes per leg.
Endovenous Laser (EVLA)  A laser fibre is administered inside the vein. The laser heat penetrates the vein wall and as it is withdrawn up the leg the vein is destroyed. The procedure takes around 30 minutes per leg under local anaesthetic or general anaesthetic according to patient preference.
Foam Sclerotherapy A foam is injected into the veins and this causes them to collapse and fibrose. Ultrasound guided foam sclerotherapy can treat obvious varicose veins as well as incompetent long and short saphenous veins causing underlying problems. The procedure is performed in the Outpatient Clinic.
VNUS Closure
Radiofrequency heat is used to close the varicose vein via a closure catheter.  The catheter is positioned into the varicose vein through a very small incision in the skin. This treatment is also known as endovenous thermal ablation and Radiofrequency Ablation (RFA) of varicose veins.
Injection Microsclerotherapy
A safe and effective treatment designed to decrease the visibility of unsightly skin veins most commonly found on the legs by injecting a solution into the veins with ultra-fine needles to 'close' the vein.
Veinwave Therapy
A small pulse of high frequency electrical current is delivered via an ultra-fine needle closing the vein through heat.