Mr Michael Gaunt showcased for third year.
Helping you find effective professional treatment of varicose veins,
spider veins and associated cosmetic problems. 
'The definitive online lifestyle guide for anyone wanting to find the best of everything' Tatler Address book features the very best UK beauty and cosmetic surgeons. Mr Michael Gaunt, internationally renowned vascular surgeon, is featured for the third consecutive year.
As a specialist surgeon, Mr Michael Gaunt completely understands the psychological impact of unsightly veins. His private clinics in Harley Street, Cambridge, Bury St Edmunds and Norwich offer patients the latest technology and professional treatments.
Whether it's a spidery blotch or raised leg veins that are bothering you, Mr Michael Gaunt insists on a full evaluation using a duplex ultrasound scan to ensure the exact source of the problematic veins.  The scan will determine the correct individual treatment plan for you and Mr Michael Gaunt will talk you through the whole process.
'Painful or unsightly veins? Mr Michael Gaunt will put the bounce back into your step' – Tatler
Renowned Mr Michael Gaunt personally performs minimally invasive treatment of varicose veins using Endovenous Laser Ablation (EVLA), VNUS Closure and ClariVein. He also performs ultrasound-guided foam sclerotherapy, microsclerotherapy and VeinWave techniques.
Earlier this year, Mr Michael Gaunt enjoyed the Tatler Breakfast event  celebrating the Tatler Address Book 2020. Hosted at the Mandarin Oriental Hotel in London by Richard Dennen, Tatler's editor, and Francesca White, Health and Beauty Editor-at-Large. Michael welcomed the opportunity to meet and talk to other leading health professionals and discuss his approach to the treatment of varicose veins, unsightly thread veins and spider veins as well as other conditions affecting the venous system.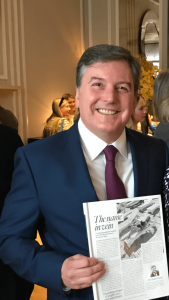 There's a wide choice of treatments and procedures available to combat varicose veins and thread veins. An individual treatment plan, that's specifically tailored for you and your lifestyle, is crucial to achieving the results you want. 
Consultations with Mr Michael Gaunt are available at Harley Street London, BMI Bury St. Edmunds, Spire Norwich, Nuffield Health Cambridge or Spire Lea Cambridge .
Contact: 01223 305858.