"It has been the best money I have ever spent."
I suffered deep vein thrombosis in my early 20s which damaged the valves of my left leg. While not medically ill, I couldn't stand for prolonged periods and undertaking sport of any kind was difficult and uncomfortable. I was faced with the prospect of spending the rest of my adult life in surgical stockings.
I did not have unsightly veins and did not qualify under the NHS guidelines for treatment for any medical reasons resulting from my damaged valves.
I had always been under the impression that laser treatment was only for cosmetic reasons – to treat unsightly varicose veins. It did not occur to me, nor was it pointed out, that laser surgery might well work for me.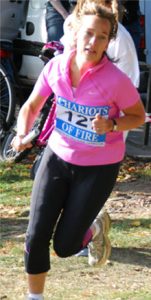 It was some 18 years after my DVT that a GP suggested laser treatment might help after he attended a lecture from Michael Gaunt.
I had the treatment two years ago and haven't looked back since. It has been the best money I have ever spent.
When I had the treatment done privately at the Spire, I had not anticipated the far-reaching effects it would have on my lifestyle.
Having barely been able to run for a bus pre-operation, I took up running shortly afterwards. My first challenge was small – to enter the Chariots of Fire race in Cambridge, which is a 1.7 mile relay. I completed that nine months after surgery. In the following year, I ran three separate 10k races and the Chariots of Fire race again.
This year, my challenge is to complete my first half marathon in November – something I would have laughed at if anyone had suggested this before my treatment.
Mr Gaunt was extremely professional, yet down to earth. He described the procedure in layman's terms, likening my veins to pouring wine from a bottle, I recall.
The operation itself was done under local anaesthetic but was relatively painless. The relaxed atmosphere and banter between the anaesthetist and Mr Gaunt put me at ease and made the operation fly by..
I would highly recommend anyone suffering problems – be they cosmetic or physical – as a result of damaged veins to talk through the options with Mr Gaunt. The improvement to my health and fitness has been phenomenal and is difficult to put into words. My only regret is not having known about or having had the operation sooner.
Congratulations to Alison who completed the London Marathon in 2011.