"A few weeks later it was impossible to tell I had ever had varicose veins"
"I first noticed the appearance of varicose veins about ten years ago and sought the advice of a surgeon then. The most usual treatment at the time was to have the veins 'stripped'. This took place under general anaesthetic and had quite a lengthy recovery period as I recall. Having been lucky enough never to have been in hospital before or had any type of medical procedure I baulked at the idea of this operation and as I was experiencing no pain associated with the veins I decided not to go ahead.
However over the next ten years the appearance of the veins worsened, in particular one that ran over my left knee and I became quite self-conscious about my legs. In addition I was also developing 'spider veins' on both legs. My husband and I spend the summer months in Spain where we enjoy sailing and I like to play golf, but I was feeling less comfortable wearing the skirts and shorts associated with these pastimes. I vowed to do something about it.
I Googled the condition and read about laser treatment. Then early this year quite by chance I read an article about Michael Gaunt in Suffolk Business magazine and realised that with the treatment available on my doorstep there was nothing to stop me.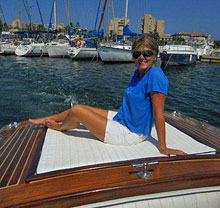 I booked a consultation as soon as possible and Mr Gaunt explained to me and my husband exactly what the various procedures involve, how quickly you can be up and running again along with the duration of the operation and exactly what to expect. Which for me, as a first time patient, was very reassuring.
I chose to have laser treatment which was carried out under local anaesthetic and I could have the procedure to both legs at the same time. There was very little discomfort during the operation and Mr Gaunt and his great team at BMI in Bury St Edmunds made the hour or so pass very quickly with their (very bad) joke telling. I had gone to the hospital first thing that morning and was back home by mid-afternoon. I wore compression bandages for a couple of days and then full length surgical socks for two weeks.
The improvement in appearance was immediate with just a little bruising and a few weeks later it was impossible to tell I had ever had varicose veins. Last month I went back to see Mr Gaunt to have injections to get rid of the 'spider veins'. These too have completely faded and for the first time in years I have a 'near perfect' set of pins!! I have lived in short skirts and shorts all this summer. In fact I am wearing shorts as I write this.
I highly recommend Mr Gaunt and the treatments he provides, it has been a life changing experience for me, one of the best things I've done in years."